Time is everything. The gameplay hinges on milliseconds as the player shuts the eyes and makes a dash for the end of each puzzle, more challenging and intense than the last. Synthwave music that switches and adapts to the gameplay, sets of the tension and the scene for the great duel of order and chaos every moment.Grueling and exhausting, The Machine drags the player through a marathon of cages and hardships, until he can finally prove his worth to be free.Ascend, be a man of gold, above the masses and The Machine. Show the strength of your resolve and wit, to find happiness in life.
The game features 6 Chapters, 60 puzzles with 4 ways of solving each, 4 hours of gameplay and compelling storytelling and voice acting.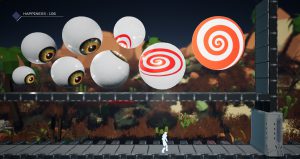 To control us the people, the overlords would need a
Read More »
 Journalists and members of the press interested in further information about any of our games, assets, REVIEW CODES or securing developer interviews are welcome to contact u
s by sending an email to
[email protected]
. 
Members of the press are likewise encouraged to visit the following Hotlinks for the most recent updates
Don't hesitate to get in touch with us. We would love to talk about games!
Working with passionate teams, we bring a much needed touch 

of creativity and innovation to the industry.

Our doors are always open to those who are interested in

games.
Address:1 Raffles Place Tower One #44-02 Singapore 048616